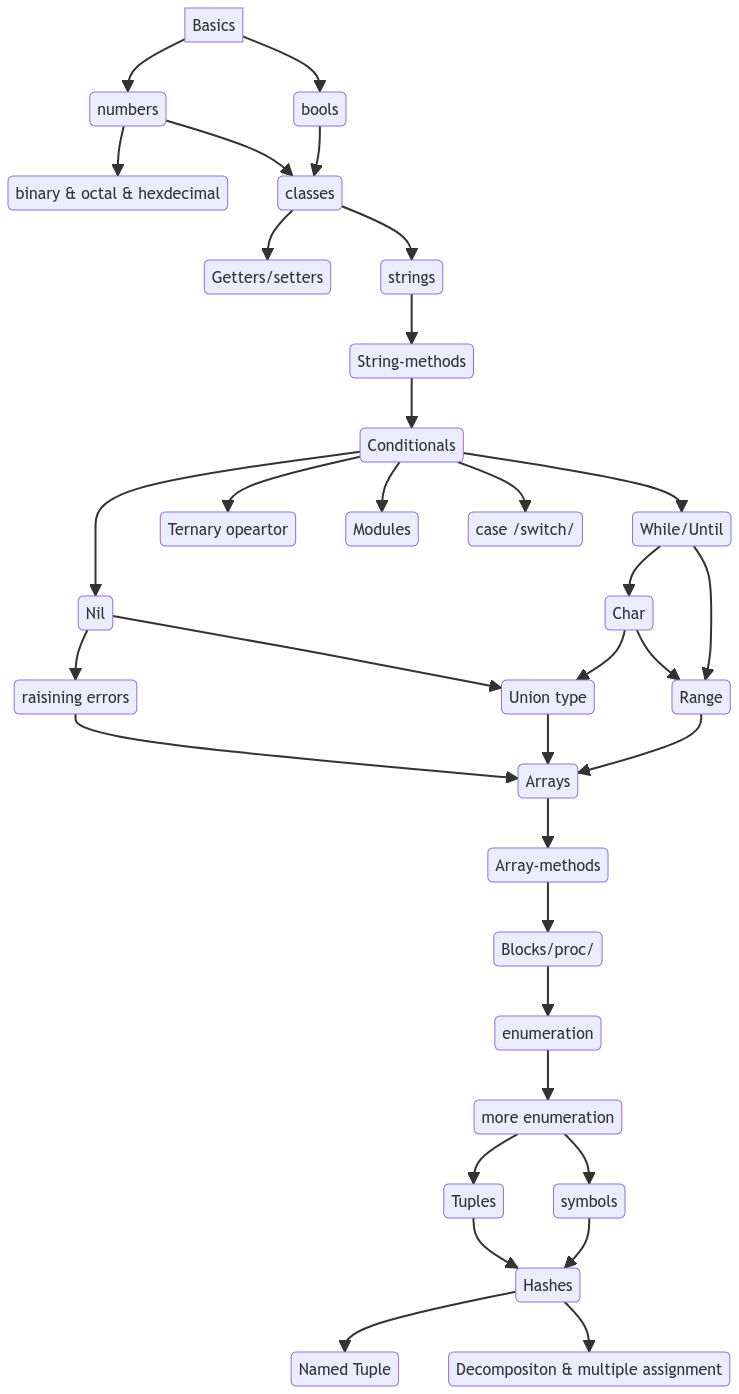 Yes a learning mode for crystal has started to be planned. I started planning for about a month ago and after a first-round a feedback from the crystal community. I am now requesting feedback from the exercism community.
Here is what currently every category covers:
Basics
Create variabels and constants
How to define a method and how to call a method
Default parameters
Numbers
Cover basic "math" methods (+, -, *, **, /, %)
How to round a number
Floats, Uint, int and all the forms of them e.g int16 etc
How to convert between different number types
Prioritization in math methods
Binary & octal & hexadecimal
How to create Binary & octal & hexadecimal
TBD
Bools
classes
General oop
Initialize
Instance variables
Class variables
Getters/setters
Strings
What a string is and how to create them
Interpolation
Empty?
Size
Indexing
Convert a string to a number and the other way around
String methods
Conditionals
If/elsif/else
Comparisons operators(==, <= etc)
Unless
Case (switch)
How to create a case
When to use a case
Modules
How to create a module
Difference between a class and a module
Extend & include
Ternary operator
How to create a ternary operator
Char
Basics of what a char is and how to use them
TBD
While & Until
How to create a while loop
Next
Break
Until
Difference between until and while
Range
Range with numbers, chars, and strings
Range with .. and ...
How to slice a String
Nil
Introduction to nil
Explain that [x]? returns the item if it exists otherwise nil.
Union types
Explain how to create a union type
Explain that assigning for example Int32? means (Int32 | Nil)
Explain typeof vs .class
Rasing errors
Explain how to raise errors
Explain errors in crystal
Array
How to create an array
Declaring an empty array
Declaring a nested array
Indexing and slicing arrays
Join and split
Explain that arrays are mutable
Explain append(<<)
Delete/pop
Array methods
Sort
uniq
shift
fil
concat
Compact
First
Last
Flatten
Reverse
Rotate
Shuffle
Index
TBD
Blocks(Procs)
This category is a little bit TBD.
It is suppose to give you enough knowledge for a student to be able to use methods like each. But perhaps not know how to use yield. So the block part may be taken away for a later concept so we only cover proc.
Enumeration
each
all?
any?
count
each_with_index
find
none?
map
map_with_index
one?
products
reduce
sum
Sort_by
More enumeration
Comment: Some of this will there not be any deep dive on, just a mention
chunks
cycles
each cons
each cons pair
each slice
group_by
in_groups_of
max_by
max_of
min_by
min_of
reject
Select
skip_while
skip
take_while
Symbols
What a symbol is
Comparison between symbols and strings
Convert a symbol to a string
Tuples
How to create a tuple
Difference between array and tuple
When to use a tuple and when to use an array
Explain that tuples are immutable
Hashes
Explain how to create a hash
Explain how to create a hash with symbols
Explain how to create an empty hash
Explain hash methods TBD
Named tuple
How to create a named tuple and the difference between a hash.
Decompositon & multiple assignment
How to do multiple assignments
How to use the splat operator
All feedback is welcome.