So… I love the fact that Unison stores functions based on their ASTs with names separate. This means as long as you've written code once, and added it to UCM, it's forever available. — not with Exercism exercises though.
My Isogram solution uses a method from my Acronym solution — which works perfectly locally.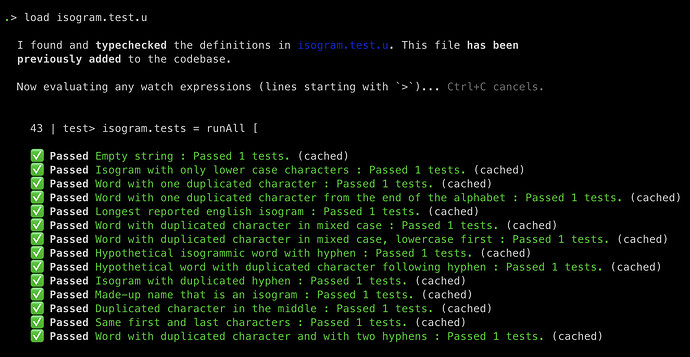 When I upload this to Exercism, the run fails — obviously — because I doubt there's a reference to acronym.wordBoundary in the test runner instance. A simple solution here would be to duplicate .wordBoundary in isogram, but something tells me that's not very Unison-esque.
Ask: Would it be possible to reuse our methods from previous solutions in subsequent ones?
I'm asking because I know there's a public exercism namespace on Unison. Now I know that if people's solutions are made public, everyone could easily use the existing methods and pass the exercises. What I'm asking for is a protected — in terms of OO — scope where I can access my methods on Exercism, but no one else can.