We're going to add track-trophies. They're like badges but scoped to tracks, so you can earn them multiple times over different tracks. Our aim is to encourage/gamify behaviour that we think will help a student learn and/or get the most out of Exercism.
I'd love to hear your thoughts on what things we should gamify.
Some samples:
Completed a mentoring session
Completed a core global set of exercises (same across all tracks)
Completed a set of track-specific exercises (e.g. 5 logic exercises in Prolog, or FP exercises in Gleam) (shows someone using the track for what that language is good at)
Completed all the learning exercises
Completed 10/20/50/etc exercises
Completed all exercises on a track
Posted multiple iterations on 5 exercises (shows someone learning/improving)
I'm thinking we have somewhere in the 6-12 region of trophies, and that they'll be a relatively fixed set (rather than badges where new ones get added all the time).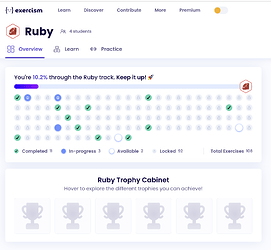 ---
So the question for you: What should we gamify?